Therapeutic Recreation
What is Therapeutic Recreation (Recreation Therapy)?
Therapeutic recreation uses recreation and variety of diverse activities to improve the physical, cognitive, emotional, and social functional to improve the quality of life for an individual. Therapeutic recreation professionals believe that recreation can change a life for the better.
Description of Program
This emphasis focuses on skills necessary in the management of public and private organizations, which provide a diverse array of therapeutic recreation and recreational therapy services.  This emphasis can lead to certification as a Certified Therapeutic Recreation Specialist (CTRS).
Certified Therapeutic Recreation Specialists (CTRS®)
In addition to earning a Bachelor of Science, graduates also have the opportunity to become a Certified Therapeutic Recreation Specialists (CTRS) a nationally recognized certification for therapeutic recreation professionals from the National Council for Therapeutic Recreation Certification. Please visit www.nctrc.org for more information.
What Clients Do Certified Therapeutic Recreation Specialists (CTRS®) Serve and Where Can You Find Them? 
Recreational Therapists work with a wide range of individuals requiring health services including:  
Physical Medicine and Rehabilitation Centers
Mental  Health Facilities and Psychiatric Centers
Hospitals and General Medicine
Geriatric (e.g., Long-Term care or Skilled Nursing Facilities)
Parks and Recreation Districts and Special Recreation
Community Centers and School Systems
Camp and Wilderness Settings
Substance Abuse and Addition Treatment Facilities
Correctional Settings
and many other human service agencies....
There is a growing trend for recreational therapists to work in private practice providing services in the home and community as well.

Curriculum Requirement
Theory Core (6 hours)
REC 500 – Modern Concepts of Leisure
REC 508 – Trends and Global Issues in Leisure Services
Theory Electives (3 or more hours)
REC 501 – Personnel in Leisure Services
REC 502 – Revenue Production for Leisure Services
REC 503 – Managing and Marketing Leisure Services
REC 525 – Recreation for Special Populations
Research Methodology Core (3 hours)
REC 550 – Research in Recreation (or EPSY 505, 533, or WED 561, HED 526, PSYC 593, KIN 592)
Research Core (9-10 hours)
EPSY 402 - Basic Statistics  OR
EPSY 506 - Inferential Statistics
REC 599 - Thesis   OR
REC 575 - Project (plus a 3-hour elective course)   OR
REC 596 - Graduate Internship (560 hours)
Emphasis (15 hours)
REC 460 – Therapeutic Recreation Management
REC 461 – Therapeutic Recreation Program Design and Evaluation
REC 462 – Facilitation Techniques in Therapeutic Recreation
REC 440 - Therapeutic Recreation for Selected Populations (3 credit hours each)
Elective Hours
Any Course from the Graduate Catalog
Note – Along with completion of the Masters Degree, graduates have the possibility to be certified as a Certified Therapeutic Recreation Specialist (CTRS). This certification requires an internship of 14 weeks/560 hours under a CTRS post graduation and that the following courses appear on your transcript (only required for certification, not for graduation with your MS).
Anatomy and Physiology
Abnormal Psychology or Psycho Pathology
Human Development
Reasons to Join the SIU Therapeutic Recreation Program:
Extremely Happy and Dedicated faculty who are committed to excellence in teaching.
Community is at the core of every experience.
Field based learning -from paddling down a winding river to climbing in sandstone canyons or backpacking on remote wilderness trails, recreation classes often meet beyond the classroom.
Experiential Education -our educational philosophy emphasizes self-direction and learning by doing.
Extensive Network of Alumni
Curriculum designed to meet the eligibility criteria for the Certified Therapeutic Recreation Specialist Exam
Small classes.
You'll have Fun!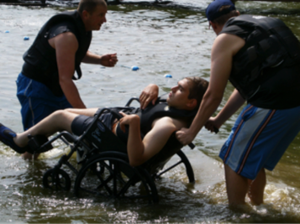 For more information, please contact the Health Education and Recreation Department
For a complete description of the courses please click here