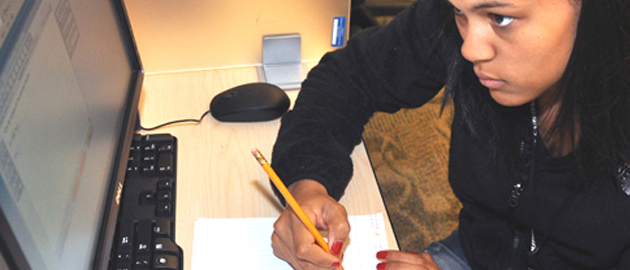 Department Scholarships
SIU now has a new scholarship application process through an online program called Academic Works. When you complete the general application, the program then matches you to every scholarship or opportunity you qualify for and submits your application for you. You may be prompted to answer a few additional questions if you are matched to a scholarship or opportunity with special questions. Follow the instructions below to access the scholarship website and explore our Academic Unit scholarships.
To apply:
Click on the link below.
Click on the "Sign In" button in the top right corner.
On the "Applicants and Administrators" tab click on the "Sign In With Your Institution."
Log into the system using your SIU Network ID and Password.
Now you can complete the general application. The application can be completed in one setting or you may save it and finish it later. However, you must complete the application by midnight on February 1st.
To get started click here: https://siu.academicworks.com/
---
2015-2016 Scholarship Recipients
Wayne Ramp Scholarship
Two $2500 awards

Ronald Robbins
Leslie Harmon
W. Russell Withers, Jr. Endowed Scholarship
Two $750 awards

Melanie Whitlow
Christine O'Dell
WED Excellence Awards
Three $1000 awards

Michelle Milsap
Jennifer Galloway
Sana Haque
Frank Cluck, Sr. Technology Education Scholarship
Workforce Education Scholarship
Four $1000 awards

Justin Heinrich
Joseph Qualls
Dawn Archibold
MiAe Lee
Weaver Scholarship
Business and Professional Women's Orgnaization Scholarship
---
2013 Spring Scholarship Recipients
Recipient Testimonials
"The WED Excellence Award has confirmed my wonderful experience and performance in the Department of Workforce Education and Development (WED). The scholarship demonstrates the opportunity for academic and professional development that WED offers to their students. The award has provided further validation to my commitment to my education and other involvements. Thank you to all the faculty and staff for their support and encouragement!"
- Valerie Rasp, WED program graduate
---
"The Wayne S. Ramp Vocational Endowed Scholarship that I received at the 2013 Honors Day has made a significant impact on my experience in the Workforce Education & Development Doctoral Program. The scholarship has allowed me to fully devote my time and energy to completing my dissertation while engaging in other professional development endeavors. Some of these endeavors include presenting at the Research-to-Practice Conference at Lindenwood University in St. Charles, MO, teaching an undergraduate UCOL 101 course, and serving on academic-related committees. I am truly grateful to have been given this wonderful opportunity."
- Casheena Stephens, WED Ph.D. student
---
"Receiving the Walsh Scholarship and the WED Excellence Award was a great blessing to me and my family. First, the recognition that my work as a SIUC and WED student is exceptional enough to receive an award is fantastic, but the financial support allows me to focus on my studies and the content that I offer in my courses. Knowing that my department supports me means the world to me. I've had to be self-reliant in many areas of my life for many years, so to have a support system now that also includes my instructors, department chair, and class colleagues is refreshing and reassuring."
- Tasha Coney, WED Ph.D. student
---
"The raising fee rate at SIU Carbondale has caused me a great deal of concern as a student striving to find the balance between school and work. I was aided in this effort when I received the Marita Weaver Scholarship through the WED Department. This endowment has allowed me to cut back my work hours and spend more time on my studies so that I remain on track to graduate on time. Furthermore, receiving this honor has greatly aided me in my avoidance of debt as I have managed to complete another semester without taking out a loan to pay for my education."
- Dorothy Schachel, WED program graduate
---
"Receiving the 2013 WED scholarship for Academic Excellence was a great honor. It not only made me feel a sense of pride and accomplishment, but it also helped ease the financial burden of grad school. Receiving this award has motivated me to keep working hard and to always give my all in everything I do."
- Lindsey Qualls, WED program graduate
---
"I am a doctoral student in the Department of Workforce Education and Development (WED) and a proud recipient of the Wayne S. Ramp Vocational Education Endowed Scholarship three years in a row. The benefits realized by receiving the scholarship are both academic and financial. Recognition of one's achievement as a student is always very much appreciated. It motivates me to put more effort into my program and participate in workshops and professional conferences. Meanwhile, the scholarship encourages me to challenge myself to improve leadership ability. Financially, the award would help defray the many expenses I personally face on a daily basis, both directly and indirectly related to the WED program. Thank you Mr. Ramp and Mrs. Ramp for being part of the support."
- Xin Chen, WED Ph.D. student
---
"The Frank Cluck, Sr. Technology Education Scholarship helped me in many ways. It elevated the need to juggle jobs and allowed me to study and become an honor student. I am really grateful for the funds due to the skills I received in WED which assisted me in training and development. Due to my new skills in training and development, I opened Resuscitation's CPR Training a business teaching CPR skills to health care providers, public schools, day care centers, and more. I mostly appreciate the scholarship because it allowed me to better myself at age 42 where my children can also be proud of their mother's accomplishments and follow in her footsteps."
- Adrian Mobley, WED program graduate
---
"I am honored to be awarded the scholarship. It enables me to concentrate my efforts on the research of PET (Positron Emission Tomography) where science, technology and clinical knowledge continue to advance. One day, my clinical knowledge can be passed on to the next generation when I become a faculty member of a radiological sciences program. The spread of my knowledge through the education program will serve all patients regardless of their race and ethnicity."
- Steve Sitt, Ph.D. student in WED
---
"The bachelor's program in Workforce Education and Development (WED) was a godsend. I am so grateful to have been blessed with the opportunity to engage in such courses, and finish my degree once and for all. Graduating in 2016, with no room for advancement on my job, and drowning in daycare bills would have been my future if it weren't for the Honors Day scholarship. I was awarded this scholarship during the summer of 2013; I would not have been able to finish school on time because my job only offered assistance during the spring and fall terms. I propose that every adult looking to better themselves and further their education, consider the WED program as a golden ticket to achieving that goal."
-Ashley O'Dell, Bachelor of Science in WED student.
---
"I would like to thank the donors of the Frank Cluck Sr. Technology Education Scholarship. I was so excited to first hear of this scholarship and even more excited when I received the letter congratulating me on being selected as a recipient for the scholarship. The scholarship has allowed me to continue my education and receive my Bachelor's Degree in Workforce Education and Development in December 2013. Having received this scholarship allowed me to be a full time student this summer and buy my books. This is truly an honor; I am excited and truly blessed to receive the Frank cluck Sr. Technology Education Scholarship."
-Arlene Williams, WED Bachelor of Science student.
---
"Receiving the 2013 WED Academic Excellence Awards was a great honor for me. It not only eased my financial pressure but also gave me a sense of accomplishment, which is the most important thing in my life. Receiving this award gave me much confidence to keep me doing well in this field. It also taught me that where there is a will, there is a way. I am motivated to devote all my energy and strength to the field of WED. Thanks to the WED Department for giving me this scholarship and change my life!"
– Yangxue Jing, WED program graduate
---
Complete Recipient List
Wayne S. Ramp Workforce Educaiton Endowed Scholarship
Two $1000 awards

Xin Chen
Casheena A. Stephens
Frank Cluck, Sr. Technology Education Scholarship
Four $5000 awards

Adrian Mobley
Julie O'Laughlin
Arleen A. Wiliams
Ashley S'vea O'Dell
Brumitt Scholarship
Weaver Scholarship
WED Excellence Award
Five $1000 awards

Yangxue Jing
Valerie Rasp
Tasha Coney
Steve Stitt
Lindsey Qualls