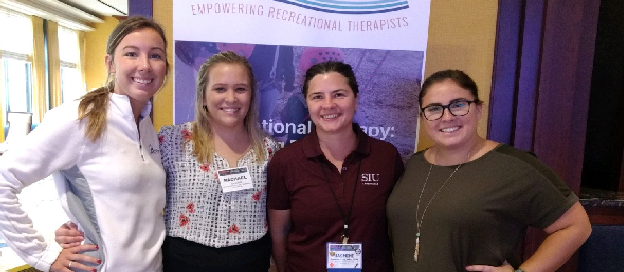 Therapeutic Recreation
PROGRAM INFORMATION
Therapeutic Recreation degree is an allied health profession that uses recreation interventions to improve the quality of life for individuals with disabilities or chronic illness. Graduates of this major find rewarding jobs at:
Physical Medicine and Rehabilitation Centers
Private Recreational Therapy Practices
Home Healthcare
Mental  Health Facilities and Psychiatric Centers
Hospitals and General Medicine
Geriatric (e.g., Long-Term care or Skilled Nursing Facilities)
Parks and Recreation Districts and Special Recreation
Community Centers and School Systems
Camp and Wilderness Settings
Substance Abuse and Addition Treatment Facilities
Correctional Settings
and many other human service agencies....
---
SPECIALIZATION COURSEWORK (21 HOURS)
REC 503-3 Managing & Marketing Leisure Services
REC 404-3 Foundations of Recreational Therapy (online)
REC 405-3 RT Implementation: Cognitive & Developmental Disorders
REC 406-3 RT Implementation: Physical Disorders & Chronic Illness
REC 407-3 RT Implementation: Psychiatric & Behavioral Disorders
REC 460-3 Administration of RT Services (online)
REC 461-3 RT Assessment & Documentation (online)

BECOME A CREDENTIALED RECREATIONAL THERAPIST (CTRS)
Along with completion of the Masters Degree, graduates have the possibility to become a Certified Therapeutic Recreation Specialist (CTRS).  The National Council for Therapeutic Recreation Certification(NCTRC) offers the exam several times each year. Check out this Video on the CTRS credential. The following courses must appear on your transcript for eligibility to sit for the exam (only required for certification, not for graduation with your MSEd):

Anatomy and Physiology (AH 241)
Abnormal Psychology (PSYC 331)
Lifespan Human Growth & Development (PH 311)
---
Check out this video on the 50th anniversary of the Special Olympics here at Touch of Nature.