Therapeutic Recreation Specialization
What is Therapeutic Recreation?
The term "Therapeutic Recreation" refers to the overall field. According to the American Therapeutic Recreation Association (ATRA), "Recreational therapy, also known as therapeutic recreation, is a systematic process that utilizes recreation and other activity-based interventions to address the assessed needs of individuals with illnesses and/or disabling conditions, as a means to psychological and physical health, recovery and well-being. Further, "Recreational Therapy" means a treatment service designed to restore, remediate and rehabilitate a person's level of functioning and independence in life activities, to promote health and wellness as well as reduce or eliminate the activity limitations and restrictions to participation in life situations caused by an illness or disabling condition."
What is a recreational therapist?
A recreational therapist is the provider of therapeutic recreation, and a qualified provider has the CTRS credential. Students are eligible to sit for the CTRS exam upon successful completion of the Therapeutic Recreation program at SIU. The National Council for Therapeutic Recreation Certification (NCTRC) offers the exam several times each year. Check out this video on the CTRS credential.
Recreational therapists can be found working in adaptive sports centers, residential facilities, Veteran's Administration centers, long-term care facilities, skilled nursing facilities, assisted living facilities, mental health centers, substance use disorder facilities, school systems, community centers, hospitals, and rehabilitation centers. Also, all US Paralympic training centers are required to have a CTRS credentialed recreational therapist on site.
For additional information on the program please contact our program coordinator, Tina Colson at tcolson@siu.edu or Jasmine Cave, CTRS at jcave@siu.edu!
---
REC CORE- 37 hours
REC 300-03 Intro to Recreation
REC 301-3 Leadership in Recreation
REC 302-3 Recreation Program Design & Evaluation
REC 303-3 Inclusive Recreation 
REC 305-1 Pre-Practicum
REC 306-3 Fieldwork 1
REC 307-3 Fieldwork 2
REC 330-3 Outdoor Recreation 
REC 365-3 Recreation Administration
REC 493-12 Internship in Recreational Therapy

THERAPEUTIC RECREATION SPECIALIZATION- 44 hours
AH 241-4: Anatomy & Physiology
PH 311-3 Human Growth & Development
PSYC 102-3 Intro to Psychology 
PSYC 331-3 Abnormal Psychology

REC 404-3 Foundations of Recreational Therapy (online)
REC 405-3 RT Implementation: Cognitive & Developmental Disorders
REC 406-3 RT Implementation: Physical Disorders & Chronic Illness
REC 407-3 RT Implementation: Psychiatric & Behavioral Disorders
REC 425-3 Planning & Design of Recreation Facilities
REC 460-3 Administration of RT Services (online)
REC 461-3 RT Assessment & Documentation (online)
Electives- 9 hours

Choose 1:
REC 245-1 Ecotherapy
REC 255-1 Recreational Arts & Crafts
REC 265-1 Intro to Animal-Assisted Therapy
REC 266-1 RT Fitness Interventions
---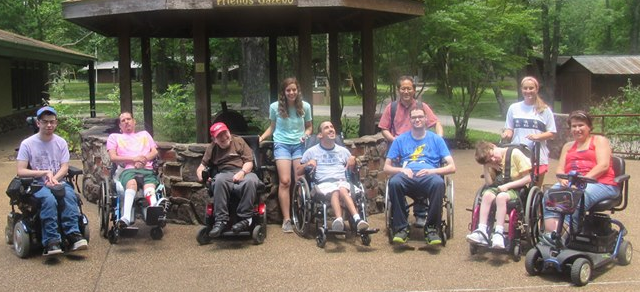 Throughout the program students have the opportunity to work hand in hand with diverse populations though Touch of Nature's therapeutic recreation camps. Some of these opportunity's include: Camp Little giant, Camp beta and Camp Respite. For more information on the camps listed above click here!
---
Certified Park and Recreation Professional
Students graduating from this program can become eligible to sit for the examination to become a Certified Park and Recreation Professional. Click here for more information.