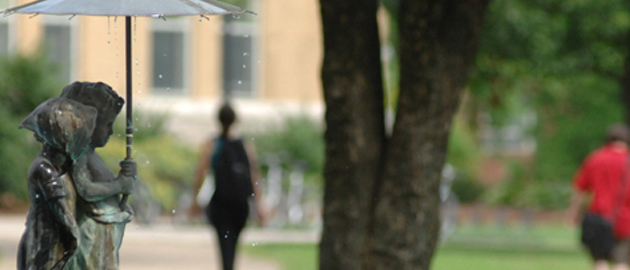 Why Recreation
Southern Illinois University at Carbondale established one of the first comprehensive recreation programs in the United States. The program has long been recognized for excellence in teaching, research, and service: for example, we pioneered in the development of outdoor camping programs for people with disabilities.
We have done much over the years to advance the professions as a whole, helping it achieve its current stature. Outstanding resources are available to our students- the Crab Orchard National Wildlife Refuge, Touch of Nature Environmental Center, Shawnee National Forest, and Giant City State Park are within a few miles of the Carbondale campus, and there are numerous correctional, mental health, and recreation agencies that provide excellent opportunities for practical experience and research projects. In short, we offer one of the finest degree programs in recreation that you can find.
Internship
All students majoring in recreation at SIUC are required to complete two field experiences and an internship with a professional recreation agency. Field experiences are usually arranged with local agencies, but may also be approved off campus during the summer months.
The internship, a more formal relationship, is a semester-long, full-time experience, often with a salary or stipend; students are chosen on their merits. Our students have completed internships with Disney World, Martin-Marietta, Johnson Wax, Chicago Rehabilitation Institute, Veterans Administration hospitals, Illinois Children's Research Hospital, and the Land Between the Lakes environmental center, among others. Our students gain first-hand experience by doing field work under the supervision of trained recreation professionals who may assist in future job searches.
Careers in Recreation
All aspects of recreation are expected to continue expanding. Public, private, and commercial organizations will continue to seek creative, skilled employees whose skills and vision will be useful in a wide range of leisure-related careers.
Graduates of SIUC's recreation programs have done particularly well in the major career branches of recreation. Six of our graduates have headed public recreation agencies that received the Gold Medal Award, given annually to one outstanding recreation department in the country-the highest honor in the field.
Recreation Administration: A wide range of employment opportunities are available in Recreation Administration. Many of our graduates work for park districts, YMCAs, Boys and Girls Clubs of America and other community recreational agencies. A high number of alumni are employed by campus recreation programs across the country. In addition, several are employed as civilians in military recreation programs in the U.S., Europe, and Korea.
Commercial Recreation: Commercial recreation includes the many opportunities available in the private sector. Some graduates have gone into sales positions with such companies as Game Time and Rawlings Sporting Goods. Others select positions involved with event planning in a number of settings including The Ryder Cup and NASCAR. Others work for Disney Corporation, Hilton Head, Omni, and similar resorts.
Outdoor Recreation: Many graduates hold outdoor recreation positions with federal and state government agencies, working with the U.S. Fish and Wildlife Service, the National Park Service, the U.S. Forest Service, and the Illinois Department of Conservation, as well as similar agencies in other states. A growing number now work as outdoor adventure leaders with programs such as SOAR, NOLS and Outward Bound.
Therapeutic Recreation:Rewarding career opportunities exist in therapeutic recreation. Many SIUC graduates work in the activity therapy programs in Illinois mental health hospitals. Others work in a variety of hospital, community and clinical settings or serve as advocates for the disabled.
Diversity
At SIUC you can enrich your programs with courses from many other related departments. We offer strong programs in forestry, zoology (wildlife management), management, marketing, journalism (advertising), speech communication (public relations), exercise science and physical fitness, public health, food and nutrition (hotel, restaurant and travel administration), music, art, theater, administration of justice, and psychology. The nationally ranked Rehabilitation Institute also provides electives. Such a broad range of academic options allows you considerable flexibility in tailoring your education to fit your interests and career goals.
Facilities
SIUC maintains many facilities and programs that provide field experience and internship opportunities for students majoring in recreation. They range from a comprehensive student recreation complex to a 3000-acre outdoor laboratory.
Student Recreation Center is the home of SIUC's nationally recognized intramural-recreational sports programs. The Rec Center houses 6 basketball, 7 volleyball, 20 badminton, 2 squash, 1 tennis, and 14 handball/racquetball courts; a dance studio; weightlifting and exercise rooms; and a rock-climbing wall. The Natatorium, with seating for 600 people, contains an Olympic-size pool as well as diving facilities with 4 one-meter and 3 three-meter diving boards and a five-meter platform. The center has a 4200-square-foot aerobic area, a 3200-square-foot fitness forum with conditioning and toning equipment, a 3-lane carpeted jogging/walking track, and a 6-lane NCAA 200-meter Mondo Super X Track.
Other recreational facilities on campus are the campus beach and boat docks, Campus Lake, and outdoor tennis and handball courts. A comprehensive program of intramural sports includes contests in everything from billiards to rugby, as well as the more conventional team sports. In addition to the field experience and internship opportunities, there are paid student work positions available in the Student Recreation Center and its related facilities.
Touch of Nature Environmental Center is seven miles southwest of the campus in the Shawnee National Forest, bordering on Little Grassy Lake, SIUC's Touch of Nature is a 3100-acre retreat nestled in the foothills of the Southern Illinois Ozarks. As an outdoor living- learning center, it is unequaled in size and scope in the Midwest. The center's rustic atmosphere provides an ideal setting for nature study, recreation, or secluded reflection. As a model facility for experiential education, research, and recreation, the center has received national recognition in three major program areas: camping and recreation for people with disabilities, outdoor recreation, and experiential education. Here, too, recreation students find numerous opportunities for field experiences, internships, and paid student work positions.