Teacher Education Program News
TEP Student, Andrea Storey winner of 
Annual Lincoln Academy Student Laureate Award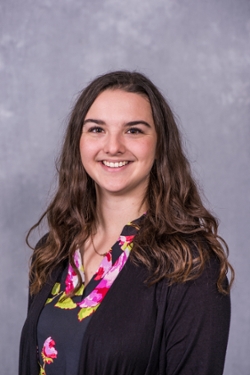 Andrea Storey, a senior, and double major in Spanish Education and Linguistics is the winner of the 44th Annual Lincoln Academy Student Laureate Award for SIU. Andrea will return to the Chicagoland area to complete her student teaching semester where she plans to live and work as a bilingual educator after graduation in May 2019. Andrea came to SIU as Chancellor's Scholar and has continued to be an active and engaged member of the university community. We know she will make an outstanding teacher and change the lives of her students! Congratulations Andrea! 
TEP Graduate, Ashley Launius wins Max Beberman Mathematics Educator Award

Ashley Launius, a 2008 Mathematics Education graduate and current teacher at Hamilton County High School is the recipient of the 2018 Max Beberman Mathematics Educator Award. The award recognizes excellence in mathematics education and is awarded to a highly motivated and effective educator who has made a significant impact on mathematics education in Illinois. Ms. Launius was nominated for the award by SIU faculty member, Dr. Jackie Cox.
In addition to working as a full-time teacher at Hamilton County High School, Ms. Launius has assumed roles such as developing and providing ACT/SAT/Accuplacer preparation instruction, proctoring MAP testing, developing new math curricula and a STEM course, writing grants, teaching courses at Southeastern Illinois College and providing training as a math facilitator for ROE #21.
Ms. Launius is a dedicated Saluki and has continued her education at SIU. She earned a Master's Degree in Curriculum and Instruction in Mathematics Education in 2010, a Superintendent's endorsement in 2018 and she is on track to complete a Ph. D. in Education Administration in 2019.
Ms. Launius was formally recognized at the Illinois Council of Teachers of Mathematics (ICTM) Banquet on October 19th, 2018 in Tinley Park. This is the second time Ms. Launius has been honored by the ICTM. She was also the recipient of the ICTM 2009 Promising New Teacher Award. Everyone at the Office of Teacher Education is proud of Ms. Launius' accomplishments and her continued success as an educator!
Student Teachers Host Workshop for SIU Day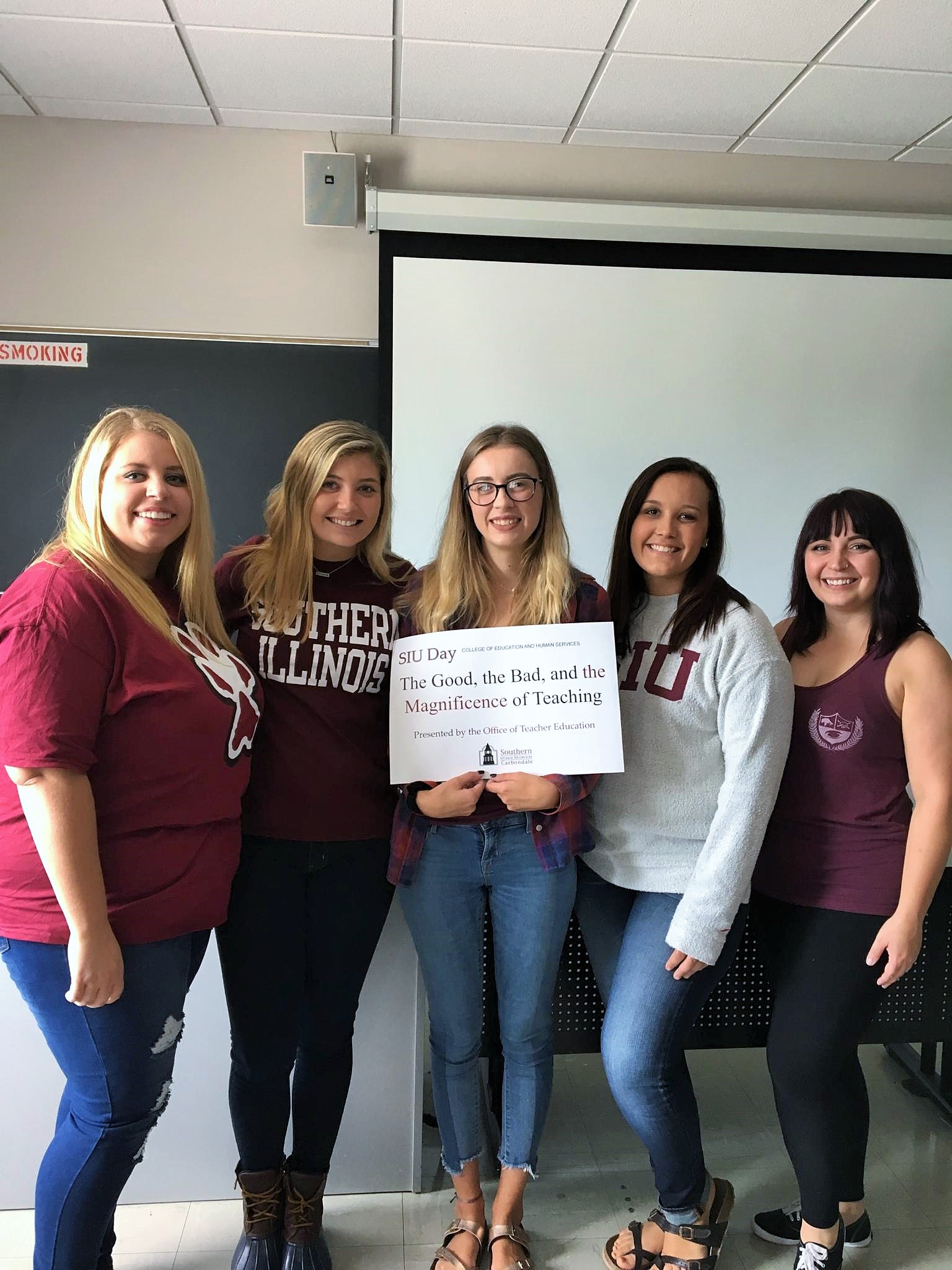 The Office of Teacher Education got in on the fun of SIU Day by hosting a session for local high school students interested in the teaching profession. Current student teachers presented a workshop, "The Good, the Bad and the Magnificence of Teaching." Student teachers discussed some of the challenges and joys associated with becoming a professional educator and how the TEP at SIU prepared them to enter the field as magnificent teachers. Students from a variety of high schools throughout Southern Illinois including Cairo, Cobden, Marion and Murphysboro participated in the workshop. 
Local Chapter of Educators Rising Established
 
The Office of Teacher Education is proud to be partnering with Carbondale Community High School District #165 to establish a local chapter of Educators Rising. Educators Rising is transforming how America develops aspiring teachers. Starting with high school students, we provide passionate young people hands-on teaching experience, sustain their interest in the profession, and help them cultivate the skills they need to be successful educators. The result is a pipeline of accomplished teachers who are positioned to make a lasting difference-not only in the lives of their students, but also in the field of teaching more broadly. Learn more at educatorsrising.org. There is power in teaching. 
Office of Teacher Education participates in 2018 College Connection 

To kick off the fall semester and welcome new and returning students to campus, the Office of Teacher Education participated in College Connection activities hosted by the College of Education and Human Services. Students interested in the Teacher Education Program were able to drop by our table to get information, ask questions and participate in several different games, including a water balloon toss! 
2012 TEP Graduate, Jason Seaman Hailed as a Hero in School Shooting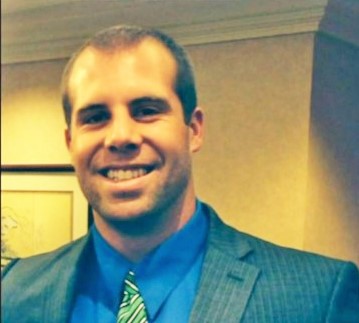 The Office of Teacher Education at SIU has many alumni who have gone on to do extraordinary things both in and out of the classroom. They shape the future. They change lives. Jason Seaman, a 2012 graduate, garnered national attention as a result of his heroic actions during a school shooting in Noblesville, Indiana on May 25th.  Mr. Seaman, a science teacher and coach at Noblesville West Middle School, was shot while directly intervening to stop the shooter. He minimizes his heroic actions and continues to focus on supporting his students, especially the 13-year old who was also injured in the shooting. During a press conference Seaman told reporters, "Her courage and strength at such a young age is nothing short of remarkable."
During his time in the Teacher Education Program, Mr. Seaman completed four semesters of clinical practice and preparation at two of our partner schools. He spent two semesters at Murphysboro Middle School, under the supervision of cooperating teacher William Moore and two semesters at Pinckneyville Elementary School, under the supervision of Cathy Decker and Londa Campbell. Upon completion of the program, Mr. Seaman earned a Professional Educator's License in elementary education as well as middle school endorsements in general science, Language Arts and Social Science. We are proud Mr. Seaman's dedication to his students and quick thinking in a time of extreme stress!  He has proven to be an exemplary Saluki!
---
---
Adam Cross receives IACTE's 2018 Outstanding Beginning Teacher Award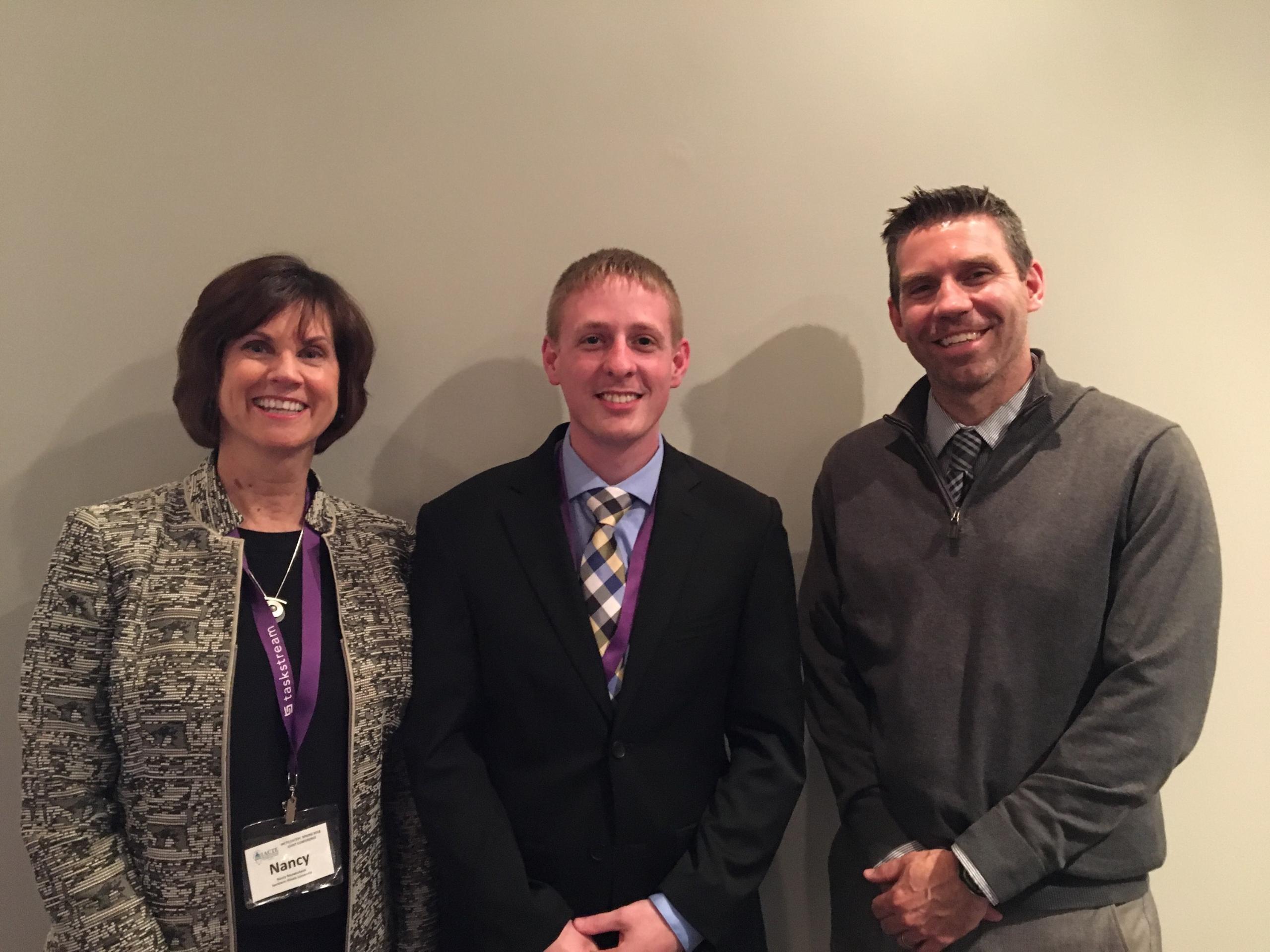 Pictured from left to right: Dr. Nancy Mundschenk, Adam Cross, Principal Jarrod Newell
Congratulations to Adam Cross, 2018 recipient of the IACTE Outstanding Beginning Teacher Award!
Mr. Adam Cross, a 2017 graduate of the Teacher Education Program at SIU, teaches biology, horticulture and agriculture at Carmi-White County High School. During his first year as a teacher he has built a reputation around his ability to connect with all of the students in his building-even those he doesn't have in class. According to Mr. Cross, "...If you don't have relationships with your students, then you don't have them at all, and that is one thing that I pride myself on, is being able to have that connection and relate to them." Dr. Nancy Mundschenk, director of the Office of Teacher Education at SIU, agrees, " ...He teaches science and uses evidence-based practices and creative strategies to teach and engage his students for deep learning. But he also knows that connecting with his students, touching their lives, is also critical. His commitment is evident in the classroom and through his support of extra-curricular activities."