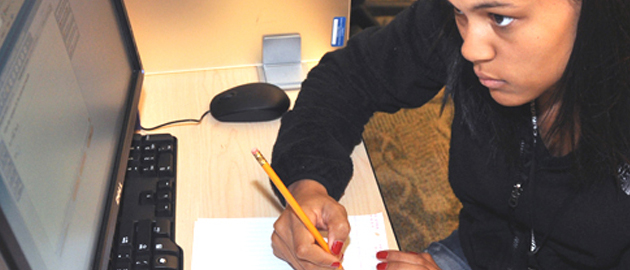 Graduate Assistantship
A limited number of graduate assistantships are available to assist with teaching and research activities. Examples of graduate assistantship roles are:
Teaching undergraduate technology and business communications courses. Strong backgrounds in the content area and instructional abilities are required.
As a course manager, you will work as a member of the Independent Study Management Team (ISMT) facilitating undergraduate distance learning courses in our Off Campus Degree Program (OCDP). Competencies required are strong writing and communication skills, computer skills, problem-solving skills, and instructional abilities; having experience in taking or designing a distance education course a plus. Students with a military background or experience are urged to apply.
Supporting faculty in funded research grant activities or other research endeavors.
Information on assistantship benefits is available online from the Graduate School.
To be considered for an assistantship, the applicant must be admitted to either the master's or doctoral program. To apply for an assistantship, complete the Graduate Assistantship Application Form, attach items identified and submit to:
Program Director
Workforce Education and Development
Southern Illinois University Carbondale
Carbondale, IL 62901-4605